In this article we share a step-by-step guide on how to repair corrupted MOV files. It will be helpful if you can't play your MOV video, or get errors when trying to open the file with a media player. The guide is created for Windows, macOS and mobile device users.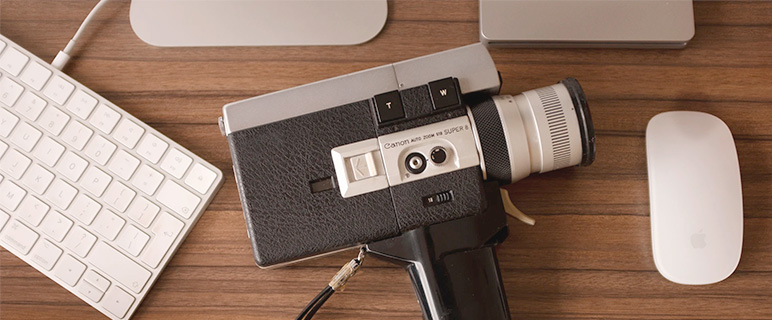 How Do MOV Files Get Corrupted?
Generally, MOV video files get damaged due to one of the following reasons:
Interrupted recording. For example, your camera could have lost power supply unexpectedly while recording a MOV video. The same issue happens if you miss to stop the recording prior to powering off your camera. As a result, your camera may fail to finalize the recorded video file properly.
Another common reason is when a MOV file has been accidentally deleted and then recovered with some data recovery tools. Almost certainly such a video file will have a damaged structure and you won't be able to play it too.
Note: recovering deleted video files is quite a complex task. There are no generic data recovery tools that can handle this well. Earlier we've published a detailed guide on how to increase your chances for successful recovery of deleted video files. So, if you have deleted a MOV file from a flash memory card just recently and haven't overwritten it with new data yet, we highly suggest that you read this article first.
MOV File Structure
Feel free to skip this chapter if you just want to fix your MOV file quickly and not really interested about how all this stuff works.
MOV is the extension used for the QuickTime File Format (QTFF), which was developed by Apple Inc. in 1991.
MOV files are built as multimedia containers and have a complex structure of nested elements, called atoms. On the top level, MOV files consist of the following basic sections (atoms):
"ftyp" (file type compatibility) – this section identifies the file type.
"mdat" (media data) – this is where actual video and audio streams are stored. A single MOV file may include several different tracks of media content, each of which can be encoded in a different format.
The "mdat" atom is the largest section of the MOV container and usually occupies almost a 100% of the file size.
"moov" (movie) – this section contains metadata about the media content stored within the "mdat" atom. This is basically a database that contains details about the number and type of media tracks, their size, length, etc. It's also a kind of a map that defines location of certain parts of the media data (e.g. key frames) and describes how to interpret it.
Data within the "moov" atom is absolutely necessary for media players (and video editing software) to be able to open and process a MOV file.
When recording a video, most of the cameras collect metadata for the "moov" section in their internal memory and save it into the final file when you stop the recording.
Now, if the camera loses power unexpectedly, it may have not enough time to save the metadata into the file. As a result, the recorded MOV video file may have a corrupted or empty "moov" section. Such a damaged file won't play in media players.
A similar issue occurs when trying to recover a deleted MOV video. Data recovery tools are just not smart enough to locate and build the MOV media container properly.
To repair such a corrupted MOV file, the container needs to be rebuilt from scratch. The basic workflow looks the following way:
First, need to define the number of tracks contained in the "mdat" section, their type (video, audio, timestamps, etc.) and format. Since the "moov" section is damaged or empty, data about the media tracks' format can be sourced from a valid (playable) sample video file, which has been recorded with the same camera/settings as the damaged file. Sometimes, media tracks' format can also be found within the media streams in the "mdat" section of the corrupted file.
Since media data in the "mdat" section is stored in bulk (e.g. video frames may be interleaved with audio frames), the contents of the "mdat" section of the corrupted file needs to be analyzed byte-by-byte to identify the exact location and size of all video and audio frames and then build a new index based on it.
Finally, a new "moov" section and ultimately the entire MOV container needs to be rebuilt based on the extracted data.
This is how most of the video repair tools work.
Steps to Repair a Corrupted MOV File
Here, at Restore.Media, we've developed an online tool that can repair corrupted MOV files. Below is a step-by-step guide on how to use the tool.
Please note that the tool is paid. You can repair a MOV file and get a full-time preview in low resolution and quality for free. But to download the fixed video file in the original resolution and quality, you will need to pay a small fee, which depends on the file size.
So here we go:
Step 1
Create a free account on this page.
A confirmation message will be sent to your specified email. Please be sure to click on the link within the confirmation email to complete your registration.
Step 2
Once the email is confirmed, you will see a welcome screen. Click Get started to proceed to the next step:
Step 3
Select the camera model used to record the broken .MOV file. If you don't know the camera model, select Generic .MOV file (H.264/AVC video and optional audio).
If you know the camera model, but can't find it in the list, you can type it manually in a separate text field located next to the camera selector: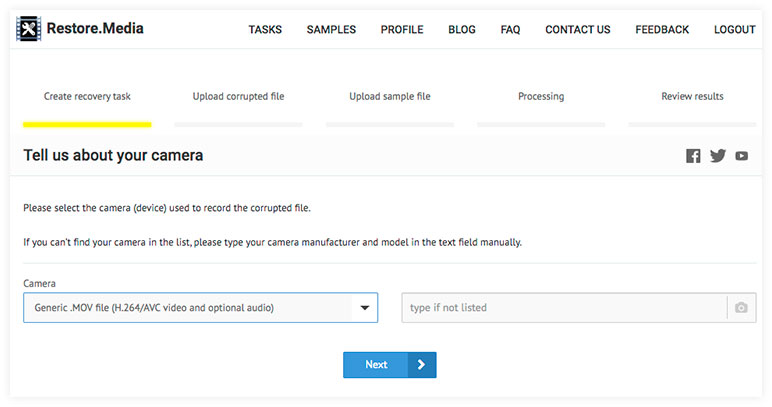 Please note: Restore.Media employs specific recovery algorithms optimized for different camera models. Make sure to specify your camera model correctly, as this ensures higher success rates when repairing your files.
Step 4
Give a short meaningful description to the recovery task. This will help you get back to it later if anything goes wrong. Leave the checkbox under the text field unticked for now: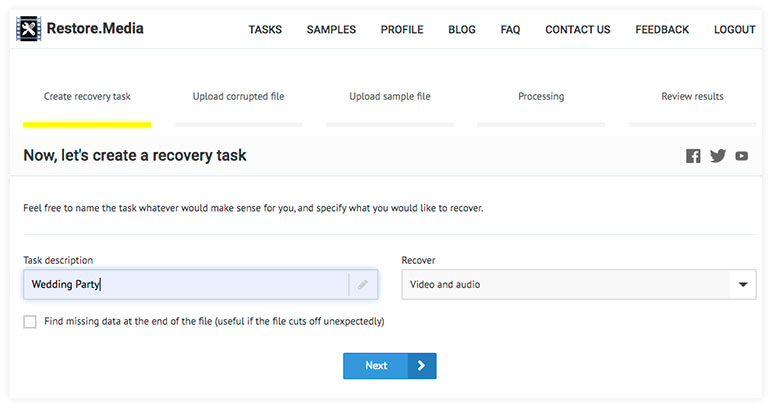 Step 5
Upload the corrupted .MOV file: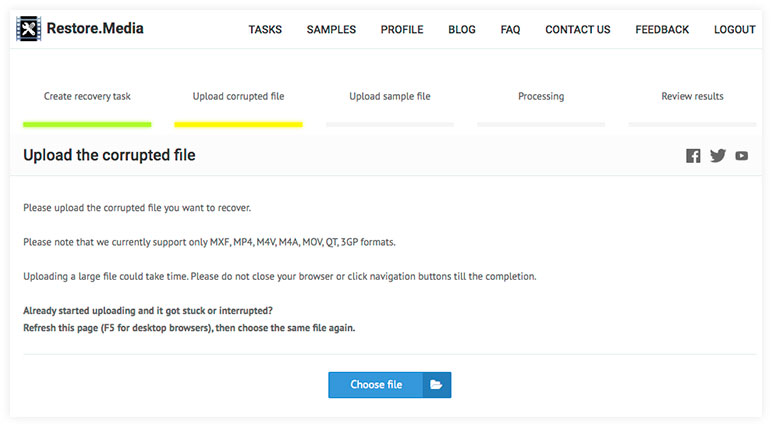 Step 6
Sometimes, Restore.Media may need additional details about your damaged file, so it will ask you to upload a sample file. If this is the case, please read instructions in this step. Otherwise, head over to the Step 7.
A sample file is a good playable .MOV video file recorded with the same camera and settings as the corrupted file. Restore.Media may need to extract metadata from the sample file to be able to repair your broken video based on it: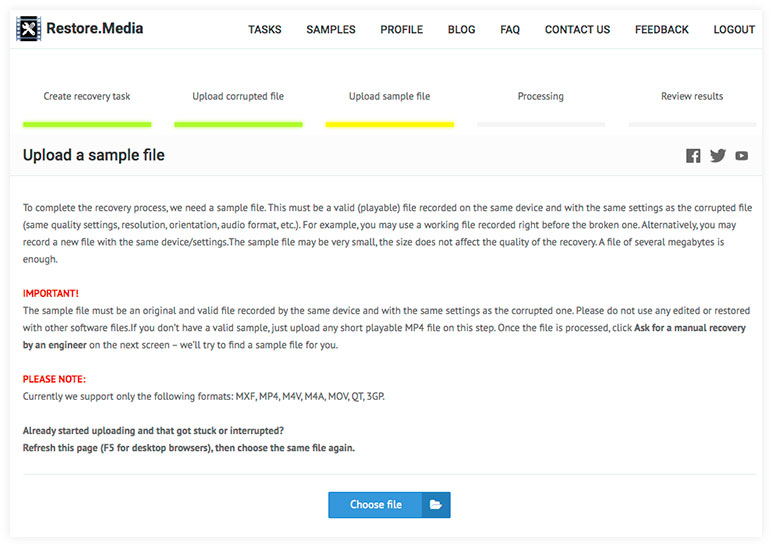 Below is a short guide to help you select the right sample file:
What is a sample file?
This is any valid (playable) video file that has been recorded with the same camera and settings as the file you want to repair.
Where do I find a sample file?
You can take any video file recoded on the camera prior (or after) the broken file, considering they have been recorded with the same settings. Alternatively, you can record a new sample video with the same camera and settings as the corrupted file. The sample video may be of around 30 seconds long.
What camera settings must be identical?
The basic settings include resolution, orientation (e.g. horizontal or vertical), frame rate, bit rate, mono or stereo audio.
What if I don't have any sample files?
In this case, please contact us – our engineers will try to find a sample file for you from our video files archive.
Step 7
Restore.Media will start repairing your broken .MOV file automatically. Depending on the file size, this process may take some time.
Once finished, you should see a few screenshots of the fixed video along with a full-time preview: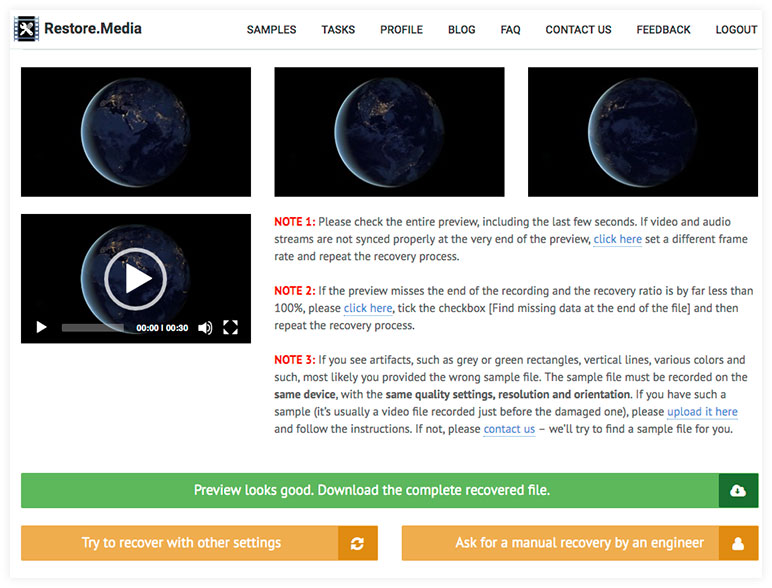 Please note:
The preview is in low resolution and quality just so you can check if your MOV file has been repaired correctly.
We strongly suggest that you check the entire preview, including the last few seconds of the video. If there is anything wrong with the preview, please read the notices next to it, where you can find instructions on how to fix the issue.
If you're happy with the preview, click the large green button to download the repaired video file in the original resolution and quality.
If you're stuck with the tool and can't repair your MOV file for any reason, click on the large yellow button – Ask for manual recovery by an engineer. Alternatively, you can contact us via email. Our engineers will be happy to help.
___________
That's it! We hope this guide will help you repair corrupted MOV video files without any issues. If you still have any questions, please free to contact us.
Happy recovering!