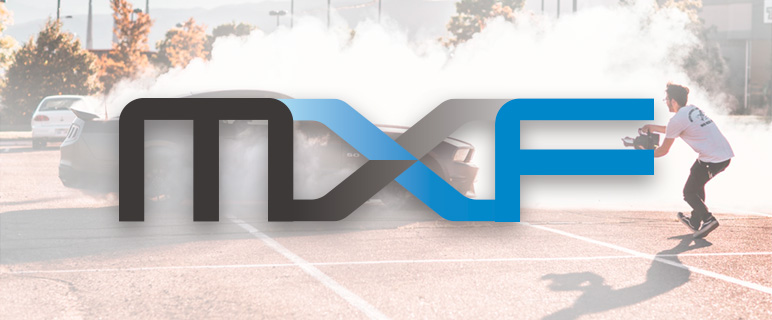 Due to the complex structure of MXF files, it's quite hard to design a generic video recovery algorithm that can repair MXF files automatically, without any assistance from an engineer. That's why most of the widely spread video repair tools these days either don't support MXF files, or have quite a low recovery success rate.
And our own tool – Restore.Media – is not an exception here. Even though we've added new algorithms capable of repairing damaged MXF files, this doesn't guarantee that the video files recorded with your specific camera can be fixed automatically 100% of the time. Yet, our engineers have extensive experience in recovering both damaged and deleted MXF video files manually.
In this article we'll cover why manual processing may sometimes be the only viable solution, as well as share our experience in repairing corrupted MXF files.
MXF Files Structure
Material Exchange Format (MXF) is a media container or "wrapper" that features a full timecode / metadata support and is designed to meet the SMPTE standards for professional video and audio production.
On the top level, MXF files have a complex structure of nested containers, which can be divided into Header, Body and Footer sections.
MXF Body is the key section and the biggest part of the file. It contains actual media data (video and audio streams), also called the "essence" elements.
There may be multiple different streams within one MXF file encoded in a variety of different video and audio formats. Apart from essence elements, the Body section also contains indexes and frames made of SystemMetadata.
The Header and Footer sections declare the video and audio formats/settings of the essence elements contained in the Body. This includes video resolution, frame rate, bit rate, video and audio codecs used in each media stream, etc. The Header and Footer sections also contain details about how media tracks are organized within the Body section.
So, how do MXF files get corrupted?
Most of the enquiries to repair MXF video files can be divided into two groups:
Group 1.
Damaged Header or Footer Data
If you've found one or several of the recorded MXF files unplayable, this may be due to the damaged metadata within the Header and Footer sections. This usually happens when the recording was interrupted by an accident and the camera failed to save the metadata in the final file.
For example, there could have been some kind of a power failure during the recording process.
If this is the case, the video and audio streams are probably fine, but the MXF container needs to be rebuilt to add the missing metadata.
In theory, if you have two video files recorded with the same camera and settings, but one of the files is unplayable, you could extract metadata from the working file and rebuild the Header and Footer of the corrupt file based on it. This is how most of the video repair tools work.
In practice, though, this approach doesn't always work with MXF files, because they don't have a consistent structure. Each MXF file has a unique Body size, length and timecode.
How to Repair MXF Files that Have Damaged Metadata?
To repair corrupt MXF files, the Header, Body and Footer structure needs to be re-built from scratch. To handle the issue, we've developed a video repair tool that employs multiple different recovery algorithms tailored to MXF files that have been recorded with specific camera models.
Some of the algorithms can work in fully-automatic mode, while others can be applied by our engineers manually.
With this approach, we can repair MXF files recorded on virtually any camera, including (but not limited to) Sony, Canon, Panasonic, BlackMagic and JVC.
We work with footage shot in XDCAM, XAVC, DNxHD and other formats.
So, if you have an unfinalized/unplayable MXF file, we can offer two options to repair it:
First, you can try to fix it with the help of our video repair tool – Restore.Media. For this, register a free account on this page and then follow the instructions.
On the camera selection screen, make sure to choose your camera model, so that the tool employs the right recovery algorithm. If you can't find your camera in the list, select Generic MXF file: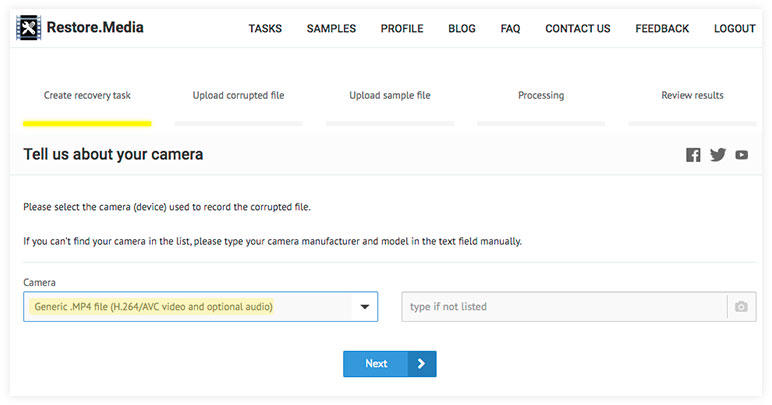 What If the Tool Didn't Fix My File?
If the tool couldn't repair your MXF file automatically, our engineers can review and process the file manually. Such approach gives a 100% recovery success rate (provided that the media streams within the Body section are not damaged).
Simply click on the large yellow button Ask for a manual recovery by an engineer on the repair results page, or send us a message via email. Our engineers will analyze your file and provide you with further details.
What About the Price?
The price depends on the file size and complexity.
If the file can be fixed automatically, you will see the price in the app's interface prior to downloading the repaired file.
Note: we offer volume discounts for large orders. If you need to repair multiple MXF files, please contact us for further details.
If the file needs to be processed by one of our engineers manually, we will let you know the price after reviewing the file. Once everyone agrees with the terms, our engineers will repair your corrupt MXF files and provide you with a preview along with screenshots taken across different points in the video clip, so that you can be sure that the video has been actually recovered before making any payments.
Group 2.
Deleted MXF Files or Corrupted/Formatted Memory Cards
A more severe damage to MXF files may be caused if you've deleted them from a memory card, or quick-formatted the card by accident. We've also seen cases when a memory card became unrecognizable due to some glitch, and the studio had to quick-format it to be able to retrieve the files.
In this scenario, you would have to use an "undelete" tool to recover deleted MXF files. But this, again, works well only in theory. In reality, most of the "undelete" tools just can't locate all the media stream chunks due to their fragmentation. And for sure, such tools can't re-build the MXF container properly.
How to Fix This?
The only option so far is to manually scan the memory card cluster-by-cluster to collect the appropriate parts of the video and audio streams and then merge them into continuous tracks.
Here, at Restore.Media, our engineers developed a tool specifically optimized to work with fast flash memory cards, such as P2 and the HFS file system.
When recovering video and audio streams, the tool allows engineers to extract raw media data while filtering out HFS clusters that contain junk data from index/metadata files.
Having recovered the raw video and audio data, it is possible to rebuild the Header and Footer and ultimately the entire structure of the MXF file.
Note: the raw media data must remain on the memory card untouched after the deletion. It's critically important to not overwrite it with some other files. Hence, we strongly suggest to stop using the memory card and safe-eject it out of the device as soon as you realized that the files have been deleted.
The next step would be to create a RAW image (.IMG) of the memory card. It will serve you as a backup and source for recovering deleted MXF files. Having such an image file is important, because you can use it with different data recovery software or services until you get your footage recovered.
Do not delete the memory card image, until you're sure the recovered files are actually playable.
We have a detailed step-by-step guide on how to act if you deleted video files from a memory card. The guide is based on SD cards, but can also be applied to other flash memory types, including Compact Flash, P2 and SxS that are often used in high-end camcorders.
Please find the guide here:
Recover Video Files from SD Cards – The Complete Guide
Can You Recover Deleted MXF Files for Us?
At Restore.Media we have a vast experience in recovering MXF files for a number of production studios and individual videographers.
Provided that the media data hasn't been overwritten or damaged, our engineers can extract it from the image of your memory card and then build it into a final playable MXF container.
Here is some feedback we've got just recently from one of our clients:
"My sincere thanks to the professionals at Restore.Media for your prompt assistance and thorough work. You had the skills to leverage a variety of approaches, landing on the one that recovered our MXF file from a corrupted SD. How you were able to do it, when a variety of software and recovery tools failed, can only be explained by the knowledge you gained in dealing with a variety of scenarios. I hope NEVER to need your services again (hope never to lose another file)... but I will be singing your praises on every platform I can and will be back with you if we need help in the future. THANK YOU - THANK YOU - THANK YOU!"
- Jeffrey Nohner
If you have accidentally deleted MXF files, or quick-formatted a memory card, please create a complete RAW image of the card and then share the image file with us. The image must contain data from free space clusters of the memory card. For more details on how to do this, please see this page.
Once you have the image file, upload it to a cloud storage, such as Google Drive, or any other hosting provider and then email us the link. Our engineers will analyze the image of your memory card and let you know if MXF files can be recovered.
Also, if you have any further questions, please feel free to contact us – we'll be happy to help!