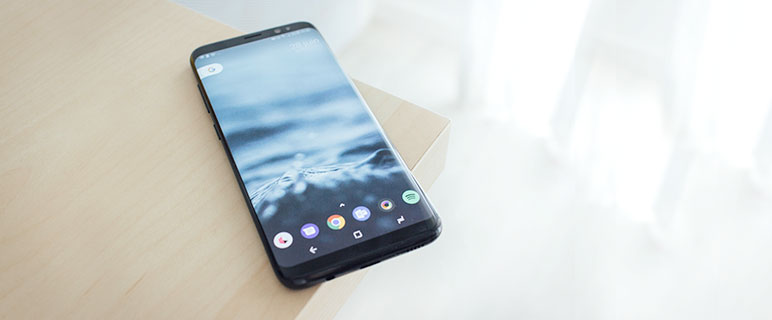 "It was my son's birthday party and I've been recording lots of video on my phone during the whole day. Eventually the battery went down to nearly zero and kicked me out of the app in the mid of the recording process. Now, this last video file appears to be broken and unplayable. The file is in the 3GP format. Could you please check if the video can be repaired?"
Here, at Restore.Media, we're getting similar messages all too often these days. So, we've decided to prepare a complete and easy-to-follow guide on how to repair 3GP files. If you've got a corrupted and unplayable 3GP video file, just follow the instructions below.
What Are the Most Common Issues with 3GP Files?
3GP file is a multimedia file format, which was designed specifically for faster streaming and downloading of multimedia content on 3G mobile phones. In its core, 3GP files have a structure similar to most multimedia container formats, such as MP4.
Each 3GP file consists of:
Actual video and audio tracks.
Indices (needed to locate frames within the video/audio tracks).
Instruction set (metadata) that contains information about video/audio codec settings, bit rate, frame rate, etc.
Indices and metadata in 3GP files are needed for software applications, such as media players, to recognize and read the media content stored within the files.
When recording video, your phone creates a 3GP file and streams video/audio data into the container of the file. When you stop the recording process, your phone builds indices along with metadata and saves it at the end of the file.
Now, if something unexpected happens that interrupts the recording process, your phone may fail to save the metadata/indices in the file.
The same problem may arise as a result of interrupted copying or transferring of the 3GP files. Such files may miss critical information and become unplayable.
Below are just a few scenarios which may potentially result in a broken 3GP file:
A sudden power loss in the mid of the filming process due to a drained battery.
A glitch, incoming phone call, or a device crash that kicks you out of the video recording app.
The phone or the microSD card runs out of space when recording a video.
A bad sector in the memory card.
Removing a flash memory card without turning your phone off may potentially damage files on the card.
You could simply miss to stop the recording process and switch to some other app, or even power your phone off.
3GP files that have been deleted and recovered using generic data recovery apps also may have damaged metadata and indices.
Luckily, though, there are viable solutions that can help you fix such broken 3GP files – just follow instructions in the next chapter.
How Can I Fix Corrupted 3GP Files?
To repair a corrupted 3GP video, the missing or damaged information within the file needs to be reconstructed. Restore.Media is a video repair tool that can do just that for you automatically. Here is how:
Step 1
Sign up for a free account at Restore.Media.
Please note that Restore.Media is not a free tool. It will provide you with a full-time preview of the repaired 3GP file for free, but you will need to pay a small fee to download the file.
Step 2
Once you've registered an account and confirmed your email, Restore.Media will guide you through the recovery process.
First, you should see a welcome screen, like shown below. Just click Get started to proceed: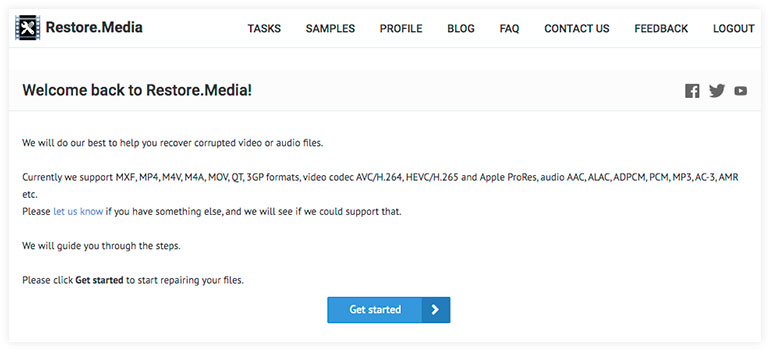 Step 3
Select the camera model that you used for recording the corrupted 3GP file.
If it was an Android smartphone, but you can't find your specific model in the list, then select the Android smartphones option.
If it was some other camera, which is not in the list, you can type it manually in the text field.
Step 4
On this step you need to create a recovery task. For this, give the task a name. For example, a "Birthday party", or "Winter holidays".
Leave the checkboxes unticked for now and click Next to proceed: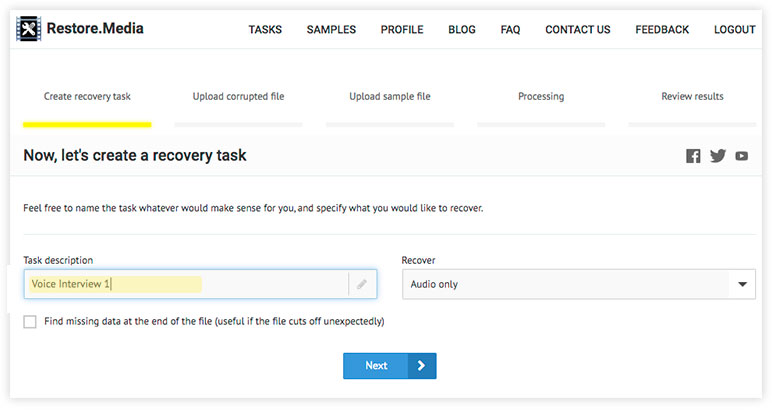 Step 5
Now, upload your corrupted 3GP file: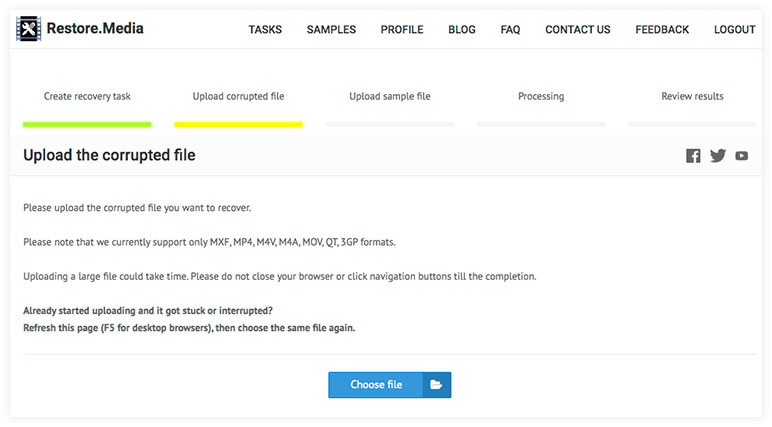 Step 6
After a quick analysis of your corrupted file, Restore.Media may also ask you to upload a sample 3GP file. If this is the case, you will see the following screen: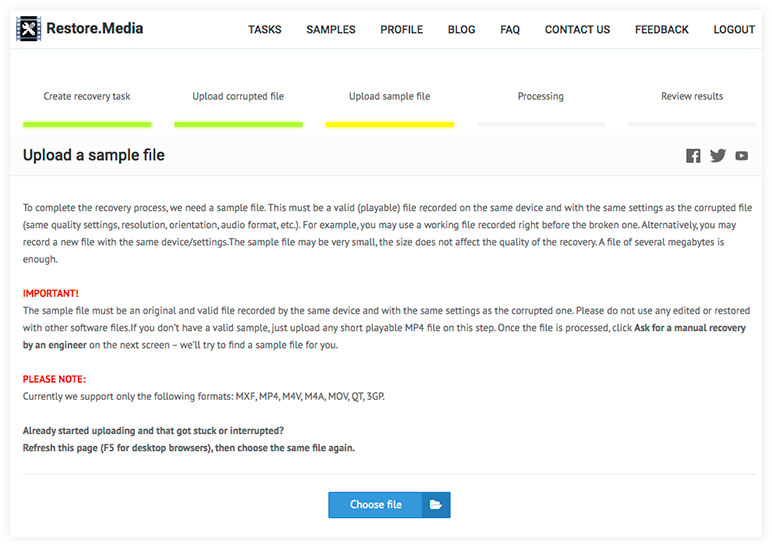 A sample file is a playable (not damaged) 3GP file recorded on the same camera and with the same settings as the corrupted file.
Restore.Media may need a sample file to extract important metadata, which is unique to your specific camera model and can't be sourced elsewhere, or generated from scratch.
For a sample file, you can take a playable 3GP file recorded on your camera prior to the broken file. Just make sure that the video recording settings, such as resolution, orientation (horizontal or vertical), frame rate (FPS), etc. match those in the corrupted video.
Alternatively, you can record a new short clip of around 30 seconds long to use it as a sample file.
And if you don't have any valid sample files and can't record a new video, feel free to contact us and we will try to find it for you.
Step 7
Restore.Media will start repairing your damaged 3GP file automatically. The recovery process may take some time. If the file has been fixed successfully, you will see the following screen: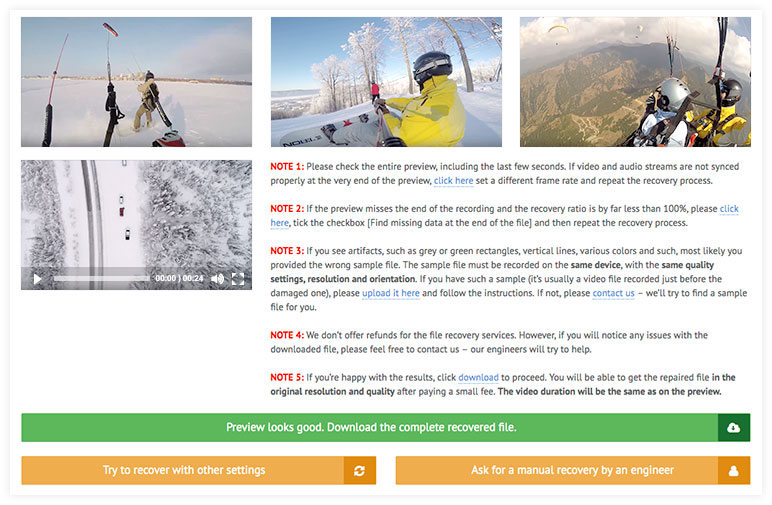 Here you can watch a preview of the repaired video in low resolution and quality. We recommend that you watch the entire preview to make sure there are no issues, such as distortions, artifacts, freezes, etc.
You can also click on screenshots taken from different parts of the video stream to see it in the original resolution.
If you're happy with the results, you can download your fixed 3GP file with the original resolution and quality after paying a small fee. For this, click on the large green button Preview looks good. Download the complete recovered file.
If the preview contains any issues, read notices next to it and follow appropriate instructions.
If the file hasn't been repaired and you don't see any screenshots/preview, click Try to recover with other settings. You will be able to upload another sample file, set a different frame rate and other settings.
If this still doesn't help, please click on the large yellow button Ask for manual recovery by an engineer as shown on the screenshot above, or send us a message via email. Our engineers will review your file and let you know if it can be fixed.
___________
We hope this guide will help you to repair your corrupted 3GP files. Still, if you have any questions or need help, please feel free to contact us.
Happy recovering!